---
Sopore, earlier known as Suyyapore, stands distinguished in Baramullah district of North Kashmir. This beautiful town is also popular as the Apple orchard of India, running Asia's second largest fruit mandi. It was known as "Suyyapore" in honour of engineer Suyya in king Avantivarman's era. Often in the news for the wrong reasons, Sopore houses within itself a massive plethora of historical learning, geographical richness and traditions of Kashmir's cultural and civilizational past. Few parts of this treasure is preserved as famous tourist attractions.
The picturesque town of Sopore is nestled in between lush green apple orchards and the Wullar Lake, glorifying its beauty manifolds. Bright red apples are surely a treat to the eyes of the people who visit Sopore. It covers and area approximately 61 sq km with a population of approximately 12 lakhs. Sopore's pristine beauty makes it an ideal tourist destination. With the beauty of apple orchards, the magnificent Wullar Lake, the sacred ziyarat of Tujjar Sharif and the Meeras Mahal Museum, it ticks all points in one's itinerary. Some famous tourist attractions are as under:
Ziyarat Maqdoomi Sahib, Tujjar Sharif.   Ziyarat Maqdoomi in Tujjar Sharif is revered by people not only in Kashmir but throughout the country. Built in the 19th century in memory of Great sufi mystic and religious teacher Hamza Makhdoom, popularly called as "Makhdoom Sahib" it hosts an annual fair in his memory between the 11th and 13th of October every year. Tourists and locals from nearby and other places visit in huge numbers. For Bilal Ahmad Ganai, a resident of Saidpora in Sopore, it is more than a place of tourist attraction. Bilal's family has been visiting the shrine since past many years as a tradition and their faith has only deepened over the years. Sopore remembers Maqhdoomi Sahib as a powerful spiritual teacher whose influential teachings helped shape many generations.
Meeras Mahal Museum.          The remnants of the most mighty kingdoms and beginnings of the most profound religious treasure have been preserved in the form of a young museum called the Meeras Mahal Museum in Sopore. Also called as the Heritage Palace Museum, it hosts intricate wood and stone work and tools dating back a thousand years ago, ornaments, jewels and traditional textiles used by Kashmiris over centuries. It is a brainchild of Ms Antiqua Banno, a renowned scholar and educationalist. It is a potent centre for historical learning and research.
Wullar Lake.       Wullar Lake is one of the largest fresh water lakes in Asia. The Lake is situated in Bandipora district and skirts Sopore from the East covering approximately 200 sq kms. A wide variety of fishes and migratory and territorial birds add to the beauty of the lake. Fun filled activities like boating, water sports and water skiing make it a must visit place for people visiting Sopore. Apart from being a tourist spot, it also sustains the survival of families of  many fishermen like Asif Mir of Watlab, whose family depends on fishing to sustain their daily life. Fishes of Wullar are quite famous to get a high price in the market, thus adding to the local economy and employment to many locals.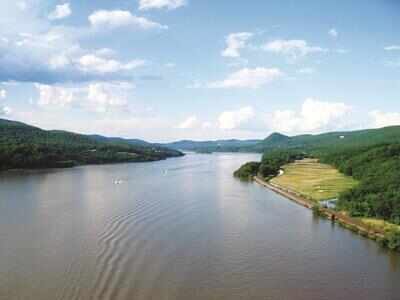 Jhelum River.    The famous Jhelum River needs no introduction. It flows throughout the length and breadth of Jammu & Kashmir and has numerous tributaries. It covers a length of 700 kms and originates from Verinag springs in the foothills of the Pir Panjal ranges. It attracts tourists and families during summer months as it is an ideal place for outings, picnics, and adventure and water sports. Taking a stroll in the mornings along the river offers mesmerizing views of the river that play a soul soothing melody by the currents of the flow.
There is no doubt that the beautiful town of Sopore has ample attractive plans  to come up as a rich tourist hotspot surrounded by beautiful mountains and fresh water but it still remains a lesser known tourist hotspot even for people from other parts of Kashmir due to lack of development. A developmental facelift is the need of the hour to overcome the snail's pace. More intervention from the government and tourist department is the need of the hour to boost the tourism industry in Sopore. Options like Collaboration with private firms and organisations (Public Private Partnership) and privatisation of tourist areas will go miles in improving the tourism potential of Sopore.